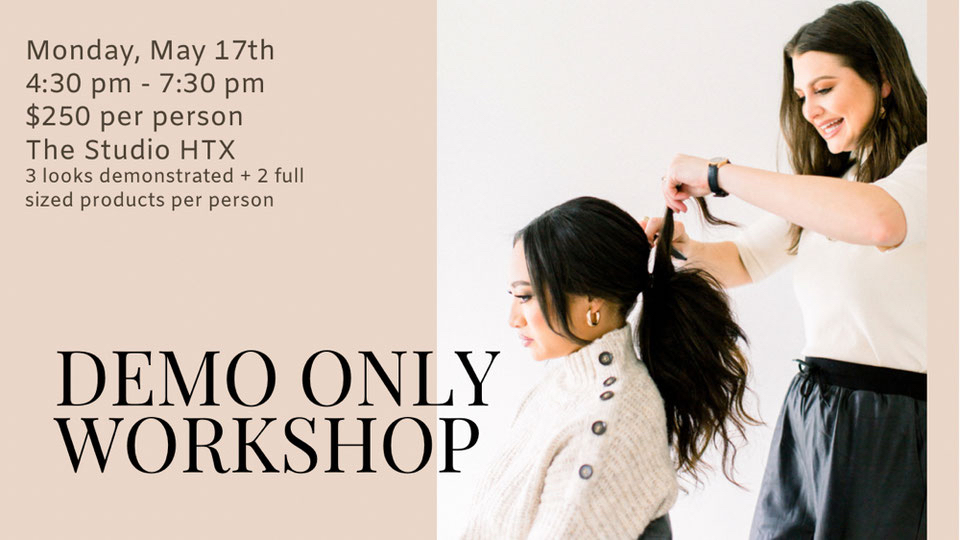 Demo Only Workshop Details

Date: Monday, May 17th
Time: 4:30 pm to 7:30 pm
Location: The Studio HTX 
2001 Commerce St #220, Houston, TX 77002
(Located above Tout Suite)
Price: $250
Included: my customized Hair Cheat Sheet, Hair Photo Guide, and 2 full size products 

Grab yourself an afternoon treat at Tout Suite and head upstairs to meet me for a happy hour demo only workshop. I wanted to make this class accessible to all of my bridal stylists who also work day jobs during the week so you're able to get your fill of education in prior to your busy weekends ahead!

I will be demonstrating three total looks with a variety of up and down options. Each stylist will receive two full size products with their class ticket. This class is great for a refresher course if you've taken a class with me and want an updated insight on some of my most recent styles but also works great for a stylist who is learning from me for the first time! My maternity leave begins June 1st so this is my last open workshop before I return back in the fall for classes. 

If you haven't been to this space before, it has the most incredible all window walls and gets beautiful natural light. I'll follow each look with tips and tricks of how to best document your hairstyles. Follow the link here to sign up, I can't wait to see you there!