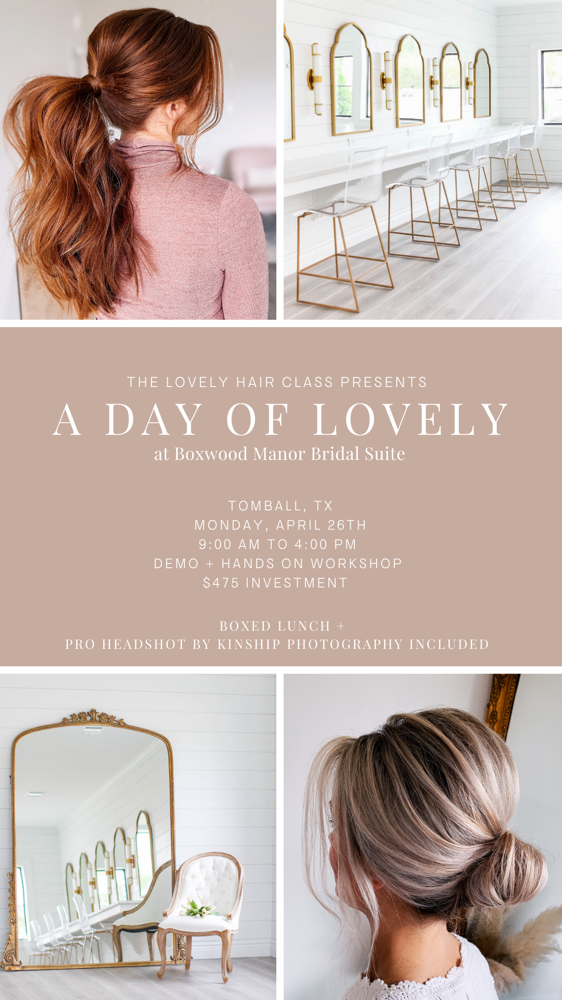 My first EVER full day workshop in Houston, Texas. In the past, even my large group classes have been half day classes but I've decided its been WAY too long since I've hosted an open workshop in Houston and a full day was in order! I will be teaching three looks on three models with different hair types and length: a glam ponytail, an updo, and a half up half down look. In order to have more space and plenty of room for all of our stylists + models, we are heading to the absolutely beautiful bridal suite at the wedding venue Boxwood Manor in Tomball, Tx. Boxed lunches will be provided for a mid day break. My talented friend Hannah of Kinship Photography is coming along to document the day and will provide headshots + action shots of all stylists in attendance who choose to participate. Stylists are required to bring their own models for the hands on portion of the day. If you are able to bring two models for a variety of looks, I encourage you to do so to get the most out of your time in class.
CLASS TIMELINE:
9:00 am to 12:15 pm Demonstration 
12:15 pm to 1:00 pm Headshots and Lunch
1:00 pm to 2:30 pm Hands on Look #1
2:30 pm to 4:00 pm Hands on Look #2
Included in class:
Four full sized professional products
Hair Cheat Sheet - my revamped personalized methods to hairstyling, product recommendations, photo taking tips and tricks, and communication with clients 101 *first time I will be including this in a class!*
Boxed Lunch
Headshot by Kinship Photography
Seats are LIMITED and will be booked on a first come, first serve basis. Payment must be made in full. 
In accordance to current TDLR standards in health and sanitation protocols, models and stylists will be required to wear masks and fill out waivers on any recent exposure to COVID19 to ensure the safety of our guests. 
It's truly going to be a jam packed Day of Lovely and I can't wait to see you there! 
xx,
Candice