This class has been so highly requested and I'm proud to say "It's here!!"...my Everyday Girl Hair and Makeup Workshop. Learn skills + tips to improve your daily hair and makeup routine. It's my thought that when you learn to apply your foundation, cream contour + highlight, properly fill in your brows, and add a lip color, that the rest can be easily changed to create a 10 minute (maybe even 5 minute) daily makeup look by adding some mascara and a touch of shadow and calling it a day or when you're headed to a girls night out, a fun date night, or maybe even attending a wedding, I'll help you learn how to add shadow + liner to transition this look to a fuller coverage and more "done" makeup look. I love brows so I always include a quick brow update and go around to each person and help with their brow shape. Now for hair, I'll help each attendee with teasing, products that work best for each hair type as well as which hot tool will help them achieve easy, everyday soft curls/waves. I go over my theory of extending your hair at least three days between washes and how best to achieve that. 

If you're interested in gifting this for a special friend, mama, sister, or wife, send me over an email and I can send you my certificate for the class so you can wrap that in time for Christmas! 

Truth be told, this picture of me was taken for updated headshots and I had 30 minutes while my babies napped to get ready for them and I thought, I want every woman to know how to do this, how to instantly make yourself feel ready for whatever the day throws at you. That is the heart behind this Everyday Girl Class. I hope to see you there!

*Class includes swag bag with a few of my favorite hair + makeup products*

To register, fill out the contact form and select "everyday girl" under the tab options.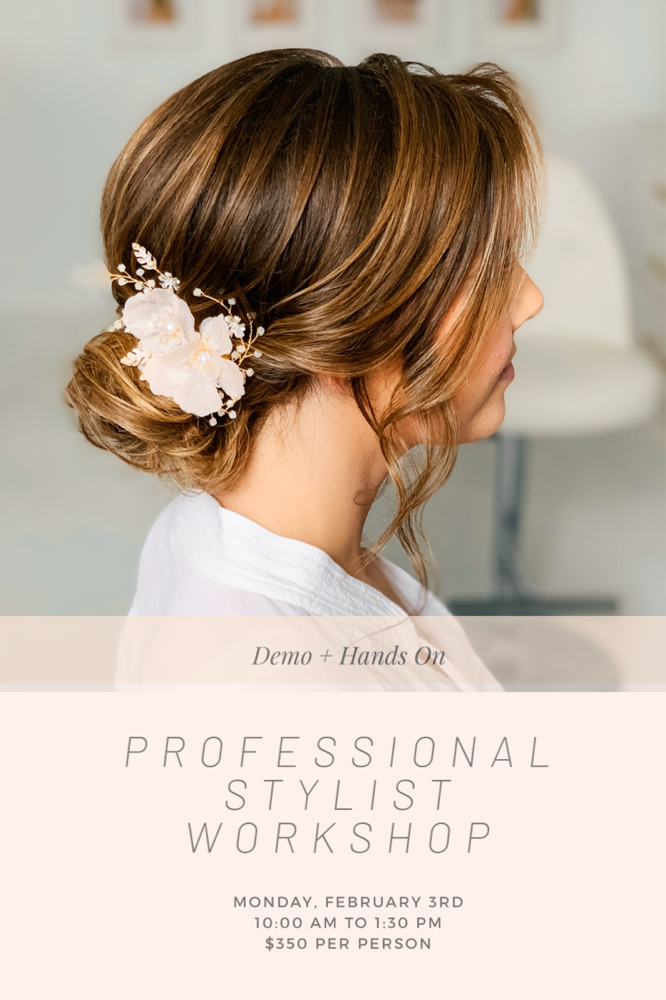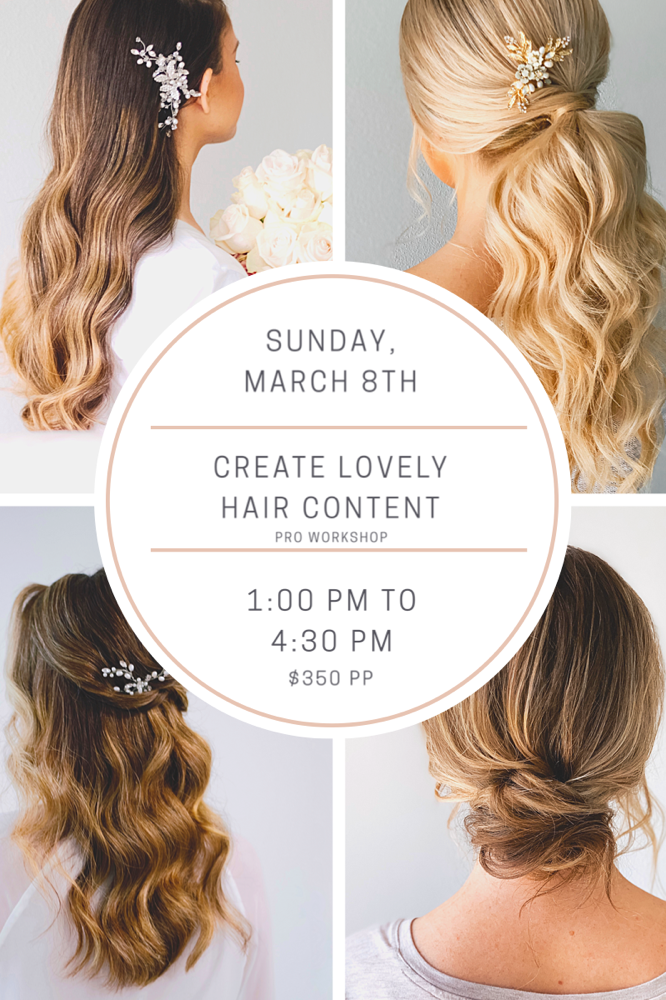 Pro Workshops:

February 3rd: An updated bridal hair styling class with three demonstrated styles as well as a hands on portion where I will help each class attendee with prep + product + detailing work of their updo. Perfect for the stylist who wants to refine their skills in bridal hair styling!

March 8th: A hands on class fully devoted to creating beautiful styles and getting portfolio content of your hair work. I will have florals + accessories + top choices + a variety of backgrounds for your models so I can help you get a plethora of photos for your portfolio, website, and social media platforms. You may choose to bring one or two models in. I will demo one style at the start of the class and then will help with detailing work, photography tips + tricks for hair photos, and social media strategy throughout the rest of the class. Can't wait for this!!

April 26th: Pretty self explanatory, right?! My love for ponytails runs deep. Bridal, party, formal, no formal...you name it, ponytails have my heart. This class can be for anyone, if you love to rock a pony yourself and want tips and tricks to help create a more styled ponytail, girl, come on. If you're a stylist and want to amp up your ponytail game for your clients headed to weddings or parties, this one is for you! Three different ponytails demo'd + a hands on portion of the class. 

*All classes will be held at my studio in Deer Park, Tx, about 20 miles east or downtown Houston*