---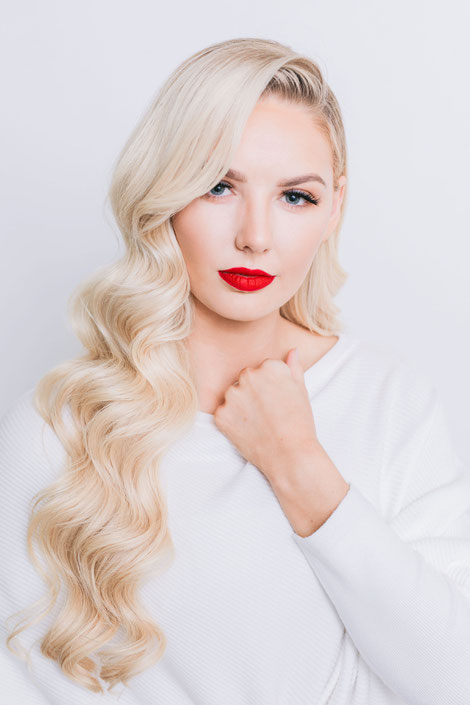 CLASSIC HOLIDAY GLAM
Hair How To: Curl the entire head of hair in the same direction using a one inch Kristin Ess curling iron curling away from the face on the side of the part, using Kenra 25 hairspray to spray lightly before and after curling, the trick with this style is to leave all of the curls tightly intact until you are done curling the head of hair and all of the curls have cooled (remember, the "cool down" part is what sets the curl!), then use the large tooth comb that comes with the curling iron by Kristin Ess and comb through all curls until they form a soft wave. As a finishing touch, use Kristin Ess Miracle Recovery Balm on the tips of your fingers to tuck the smaller side of the hair and smooth any fly aways (one of my must have products right now!).
Makeup Products: 
Red Lip: Liner from Kylie Cosmetics in Mary Jo K filled in with Velvet Matte Lipstick from NARS in Cruella 
Model: Danielle Bosley
Photographer: Ling Wang Photography with Musee Studios
---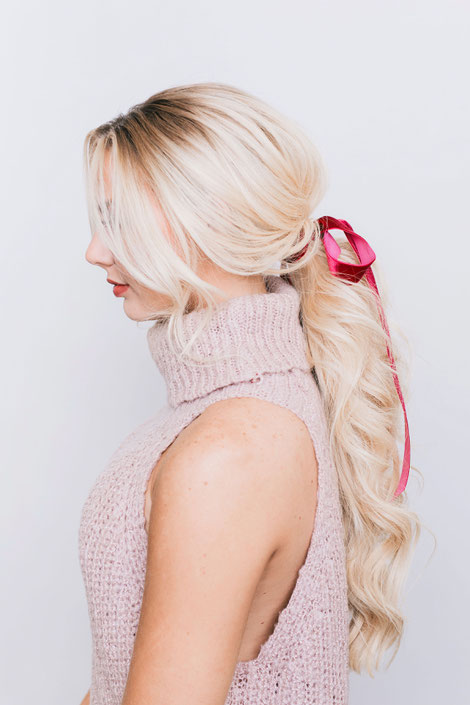 ---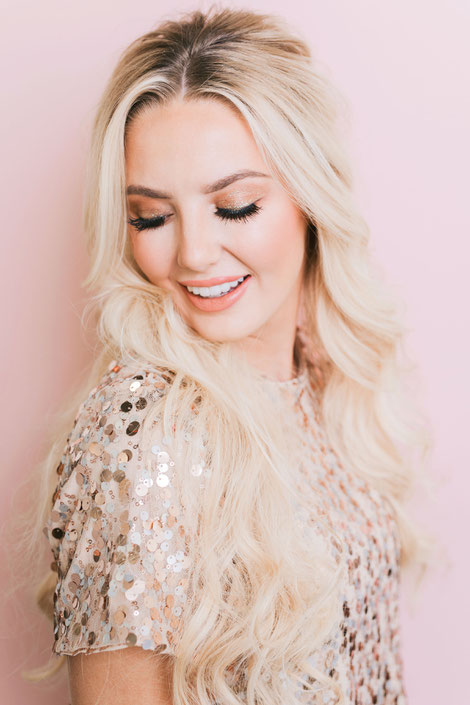 NYE GOLD GLITTER  
Hair How To: Minimalistic gold hair accessories are so on trend right now and I love this one from Annie Lesperance. It takes a simple style and instantly adds sophistication so I am taking a holiday spin on that trend and using it as inspiration for a NYE beauty look. My model on air has naturally curly hair so I love that you can use this accessory with all hair types. I used the Kenra Shine Spray to add shine to Shelby's naturally curly hair to prep, then I took about half her hair in the back and twisted to the right, piecing a part a few strands in the crown area to create some volume and texture and attached the gold circle + straight pin by scooping some hair with the pin and hooking through the circle to create a beautiful focal piece.
Makeup Products: 
Bronzer: MAC Give Me Sun
Glitter: Urban Decay liner in Midnight Cowboy
Lips: Bare Babe Lip Trio from Morphe 
Model:
Photographer: Ling Wang Photography with Musee Studios